I don't know about you guys but every time I have to customise ANY social media channel, I need to look up the correct dimensions allowed by that particular channel. I always mean to save them but invariably, I don't.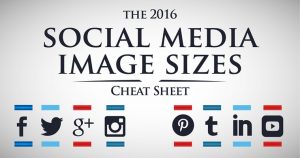 A good idea is to set the template dimensions in Photoshop so you can call them the next time you need them but the clever folks at The Search Engine Journal have produced a social media image dimensions cheat sheet for you to reference! To see the entire list of all the heavy social media channel hitters, please visit their page here - Social media image dimensions cheat sheet
Featured image credit - Image by Jamie Spencer.