Google's email service "Gmail" is one of the industry leaders when it comes to reliability, ease of use and being able to sync across all of the Google products. Google also offers their email service for business owners. This allows you to send and receive email which will look like it was sent from your own domain by filling out some simple settings.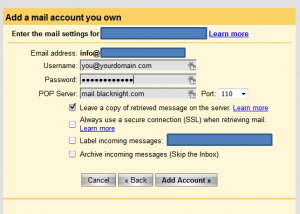 The first thing you need to do is register a Gmail address that you will use to send and receive email on behalf of your @example.com domain name. The next thing to do is to add a a POP account that you own and is related to the domain name you own. To do this:
Go to Settings, Accounts & Import tab and click "Add a POP3 mail account you own". Next, enter the email address that you would like to send and receive email from using Gmail as your email client. The next screen will ask for some simple settings that you will be able to get from whoever set up the email address initially. The pop server will vary from hosting company to hosting company. Please contact your hosting provider for the correct setting. As you can see, in our case it is Blacknight. The POP email creation is only advisable if you are only using one device to send and receive your email. However, if you are using a desktop/laptop to receive your emails in addition to a mobile phone, IMAP should be your preferred connection method. If you use POP to start with and then try to connect another device to your email account, each time you open an email on your 'pohone, the email will disappear as it has been retrieved from the server and read. We found this out the hard way when we were just setting up the business!
It is important to enter in the full username for Gmail, to work including the @ symbol.