Links and link building strategies are not dead despite what you read online. Google's search
engine algorithm will always take into account all incoming links pointing to your site with a
view to successfully rank your site. Before Google changed the way in which it viewed links,
quantity was the deciding factor when it came to a websites ranking. However, after the roll
out of Panda and Penguin updates, all this changed. Google now has the ability to
distinguish between high and low quality links in an effort to better understand your links
profile and it is important to check your link profile regularly in order to monitor this
situation. Quality back links are the new flash phrase of 2018.
A comprehensive and well though out link outreach strategy remains paramount when trying to build up your link profile. A good way to
start this link building is through link outreach. This involves reaching out to similar websites
with a view to getting them to link to your site in the form of a back link, banner link or
content syndication.
Another tried and tested method of building back links is registering with industry
directories and creating your own unique page or micro site for your business. Not only do
these sites offer assistance and ranking potential for local search, you also receive a
valuable keyword rich back link from their platform to your own site which greatly assists
with your online web presence.
We would also recommend examining your competitors link profile to see their source of links. Often, your competitors could have identified alternative sources that may not be known to you. In order to see who is linking to your competitors, simply visit MOZ's great free tool Open site Explorer and enter the competitors url.The full version will cost you but the free version gives you a great starting point to begin your competitor research. The results will show the top linking pages and relevant anchor text (clickable text that a hyperlink gets added to).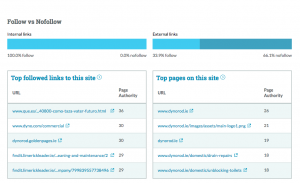 Google actively and encourage good link building technique and strategies in an effort to
clean up the prevalence of spam sites which exist solely to provide a link back to a website.
Link outreach and registering with trusted industry directories will go a long way towards
ranking your site online.